Facilities Services – Facilities Housing Operations Update
Effective Friday, 09/01/2023, the Facilities Housing team will officially be part of Housing, Dining, and Conference Services. Please follow the new guidelines below according to your need(s):

For Housing maintenance issues and/or concerns, you may still continue to submit a service request online or contact the Facilities Services Customer Service Center at (415) 338-1568, (415) 405-0579, or facilities@sfsu.edu.
For all other Housing-related issues and/or concerns, contact Tiffany Mikami at (415) 405-4489 or tamikami@sfsu.edu.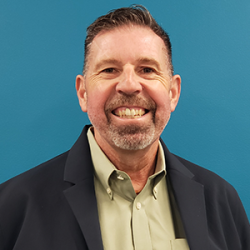 Robert Andrews
Associate Vice President, Facilities Services
Email: bobandrews@sfsu.edu
Phone: (415) 405-3835
Robert Andrews received his primary degree in Communications from CSU Long Beach and is presently serving as the Associate Vice President of Facilities Services at San Francisco State University. Beginning in 1997, Robert's career has assisted both CSU San Jose, first as Custodial Service Manager and CSU East Bay since 2009 as Director. He has supported all elements for Facilities Services during this period. Outside affiliations have included APPA, Baldrige, and California Council for Quality Excellence. Robert has been an instructor for the greater CSU and nationally guiding the supervisor's toolkit training. He served as Baldrige judge reviewing and supporting State Best Practices. Serving two times as Regional President for PCAPPA, Robert believes the CSU is a national leader providing opportunity for others to learn from.
Collaboration is critical for successful outcomes and listening to others allows for pathways forward. Robert has assisted several other CSU facilities departments develop their knowledge while serving as a mentor. He is presently serving with this year's Teamster Contractual negotiations process. We produce some of the finest students and Facilities Operations staff plays a key role in this endeavor.
Our Mission
Facilities Services (FS) is committed to supporting the University, ensuring for a quality environment in which to attract and retain top level students, staff and faculty. We are committed to ensuring the campus infrastructure meets the highest safety, aesthetic and sustainability standards in keeping with San Francisco State's culture, educational mission and student experience. It does so by creating, supporting and maintaining campus infrastructure, while providing customer-centric quality of services that are responsive and efficient.
Vision
To maintain facilities that attract and retain top level students, staff and faculty while providing a safe excellent learning and working environment.
About Us
Every day, approximately 200 Facilities Services employees make their way to San Francisco State, in support of the University's mission. Facilities Services is committed to providing high quality stewardship of the University's academic campus, including 14 major academic and administrative buildings, quasi-auxiliary and auxiliary buildings, and University Housing. 
Facilities Services' operational scope encompasses:
2.6 million gross square feet
144 acres of land at the main campus in southwest San Francisco
34 acres of land at the University's Estuary & Ocean Science Center at Romberg Tiburon Campus along the shore of San Francisco Bay in Marin County
The Downtown Campus located at 160 Spear Street, Suite 1220
Other University-owned properties in or around San Francisco
Departmental Overview
Facilities Services is responsible for maintaining the University buildings and grounds, ensuring they meet high aesthetic and sustainability standards, in keeping with San Francisco State's overall culture and educational mission. Facilities Services provides smooth day-to-day operations of campus facilities and grounds as well as the Central Utilities Plant that provides all campus utilities — water and heat, electricity, and sewage services — to the academic campus. The division values safety, comfort and efficiency and strives to respond quickly to routine maintenance issues that arise, as well as to building-related or campus emergencies. The division is a major participant in San Francisco State's Emergency Preparedness planning, partnering with the University Police Department (UPD), Environment, Health & Safety (EHS), Parking & Transportation, and many other campus units as needed to respond to incidents and continue critical campus operations.
The Operation
Facilities Services is comprised of the following units:
Customer Service Center
Custodial Services and Waste Management
Mechanical and Electrical Maintenance
Structural Maintenance
Fleet
Grounds
Facilities Operations - Estuary & Ocean Science Center
Business Unit (Human Resources and Finance)