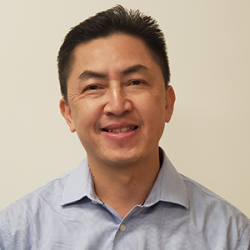 Brian Nguyen
Interim Executive Director, Facilities Operations Campus
Email: datnguyen@sfsu.edu
Phone: (415) 405-2980

About
Fleet Services is responsible for the operation and maintenance of University owned vehicles, electric and gas-powered carts as well as landscaping movers and equipment. The team is dedicated to providing a quick response to broken down University vehicles and electric or gas-powered carts.
Facilities Services Management serves as a point of control for San Francisco State University state owned or leased vehicles and electric and gas carts as required by Executive Order 691 and Educational Code 89031.5 and California State University – Use of University and Private Vehicles Policy Guidelines. The Motor Vehicle Inspection Program has campus-wide administrative responsibilities related to vehicle specification, acquisition, inspection, repair and disposal. This program covers any campus-owned motorized device for land transportation that is self-propelled and carries a driver or is towed by another vehicle.
What We Do
Serve as primary operational contact for the campus Motor Vehicle Inspection Program
Troubleshoot University owned electric- or gas-powered carts and vehicles
Service University vehicles
Maintain a current campus Responsible Managing Employee (RME) list and safety and smog inspection and notification calendar
Maintain a current inventory of the campus-owned fleet and a list of non-campus owned vehicles stored and operated routinely on campus paths
Certify mechanical inspection of all new campus vehicles upon delivery
Inventory and label all campus-owned vehicles used on campus paths with the campus vehicle ID number
Make annual inventory reports to the Chancellor's Office
Administer Voyager state fuel card program
Maintain and administer the Corporation Yard Underground Storage Tank program, including supplies, keycards and billing, serving also as the liaison with regulatory agencies
Perform program compliance audits as needed or other duties as requested by Motor Vehicle Inspector in implementing the Motor Vehicle Inspection Program
Act as the RME for Facilities Services vehicles to schedule, request procurement for and maintain records of all fuels, service and repairs
Fleet Program Policies and Procedures
The Fleet Program is multi-faceted and entails detailed operational procedures required for compliance with the Campus Motor Vehicle Inspection Program Directives, as derived from Executive Order 691-Motor Vehicle Inspections and applicable sections regarding vehicle inspection in CSU policies located in "Use of University and Private Vehicles-Policies and Regulations".
For more information regarding the Fleet Program operational procedures, please visit our Fleet Program Operational Policies and Procedures at the Additional Fleet Information page.
Here you will find information about:
Vehicle Maintenance and Inspection Services
Fuel
Vehicle Acquisitions (New or Replacement Vehicles) and Disposal
Compliance Monitoring
Servicing Vehicles Leased from State Garage
Vehicle Emergency Assistance
Rates for Services
Accidents and Reporting
Driver Safety Program: Driver Requirements
Documenting Control Of and Monitoring Use of Vehicles
CSU Policies
For more information about CSU Policies related to Fleet Services, please visit our CSU Policies page.